Camp Life
A day in the life of a Winnarainbow camper includes community meals, morning stretches, two classes in the morning, and an open afternoon with extraordinary options for play, rest, and creative expression.
Classes
During the camp day, campers have two classes each morning, as well as casual class options during afternoon free time. Almost all of our classes are free choice, meaning that for each period, Campers can choose which class they want to attend. The skills classes we offer at Camp include, but are not limited to Aerials (Trapeze, Silks, Cloud Swing, Rope), Art, American Sign Language, Clowning, Dance, Gymnastics, Juggling, Improv, Magic, Poetry, Songwriting, Stilts, Tight Rope, and Unicycling.
Skills Teachers
Our amazing staff at Camp are skilled teachers with years of background and training in their performance arts. Many of our staff first learned their skills here at Camp, and some perform their circus talents professionally throughout the year! If you are curious about what classes at camp look like, don't hesitate to reach out to us by phone or email.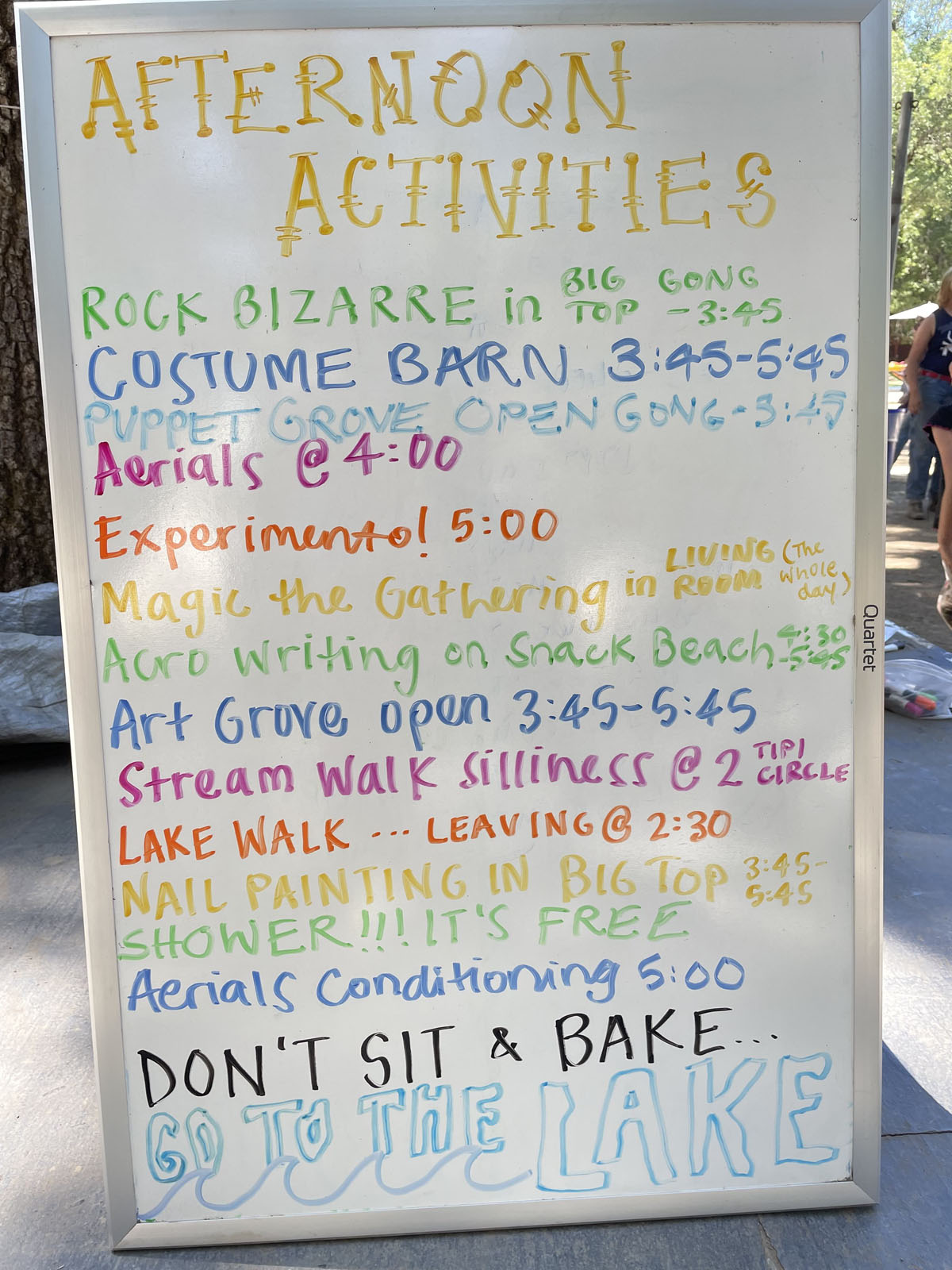 A day in the life
Curious what your kid will be up to all day? The days at camp are just packed. Check out an example of a daily schedule to see how it all goes down.
View Sample Schedule
Facilities & Housing
Camp Winnarainbow is held at the Black Oak Ranch in Mendocino County. The land's black oak trees, California bay laurel, beautiful Streeter Creek, wide open field, and surrounding mountains are an integral part of the Camp experience.
"Downtown Camp" features a circle of tipis where campers live, a large circus tent, a costume shop, a state-of-the-art aerial rig, a stage and amphitheater equipped with lighting and sound system.
Our kitchen, outdoor dining area, single-stall showers, restrooms, nurse's dome, and laundry facilities are nearby. The facility also boasts a three acre lake (Lake Veronica) for swimming where campers cool off in the afternoon. Camp life is lived outdoors and there are many shaded areas for classes, hiking, camp outs, and other adventures. The weather is usually warm to hot during the day and cool at night. Campers used to living in the city will appreciate the clean smelling air and the clear, starry nights.
Black Oak Ranch & Environment
Camp Winnarainbow is fortunate to rent our facility in Laytonville from the Black Oak Ranch every summer. The land's sacred Black Oak trees, California Bay Laurels, beautiful Streeter Creek, wide open field, and surrounding mountains are an integral part of the Camp experience.
Tipis — WHY & what they are like
With deep reverence and gratitude to First Nations peoples, we recognize the cultural and historical significance of our use of tipis as our lodging at Camp Winnarainbow.
We view tipis as indigenous technology that is brilliant in its functionality, sustainability, and capacity to offer safe lodging to a very large community. CWR is fortunate to have Lakota community leaders who have shared the cultural significance of tipi living to many generations of CWR campers. We recognize the building of Camp's village in a tipi circle as coming directly from the ingenuity of the indigenous communities of North America.
In a tipi circle, the entire community can be cared for—especially while the camp is sleeping—by a small number of people sitting at the center fire. On a very practical level, the canvas tipi walls allow for our staff to hear if a camper is in need, having difficulty sleeping, or keeping other campers awake. Tipi living offers campers an experience of interconnectedness and responsibility to one another, while leaving very little impact on the natural environment.
Gender Inclusive Housing
Camp Winnarainbow welcomes children of all gender identities, and assigns housing based on a variety of factors including age, school grade, and gender identity. We offer "boys" and "girls" tipis as well as "all gender" tipis at Camp. Campers can indicate their preference for housing during registration. Our new gender expansive housing system is a shift to provide an inclusive and safe environment for all of our campers: our transgender campers, our nonbinary campers, our gender nonconforming campers, and our cisgender campers.
Over many years, we have been making small but powerful changes at Camp Winnarainbow to make our facilities and programs more gender inclusive. We have formalized sharing pronouns during introductions, and this has become a fundamental and commonplace part of our Camp culture. All our bathrooms and showers are gender inclusive, single stall facilities.
We have received positive feedback from our campers and staff about these changes, and will continue to keep embracing gender equity at Camp Winnarainbow in all of our systems and policies.
Evening Programs
Every night after dinner, Camp enjoys an Evening Program together. These events range from Teacher Talent night, to Camper performances in the Tornado of Talent, to a jam-filled Costume Dance Party. No night is the same! Our Performance Coordinators work with campers to prepare & polish their acts until they shine like stars on our Rainbow Stage. Counselors & campers gather in the theater to watch & cheer – we laugh, we cry, we are amazed! Our Evening Programs feature:
Camper Advocates
Each session we have dedicated Camper Advocates, who support staff in creating strategies to support campers' mental wellbeing and social emotional success. Camp Advocates may communicate with families if there is something going on with a camper. Our Camper Advocates are versed in child development and have many years of experience and comprehensive training. They are attuned to the needs of all campers and act as a resource to support our community's social, emotional, and physical wellbeing.
Check out our Health & Safety page for more info on how we take care of our Campers!